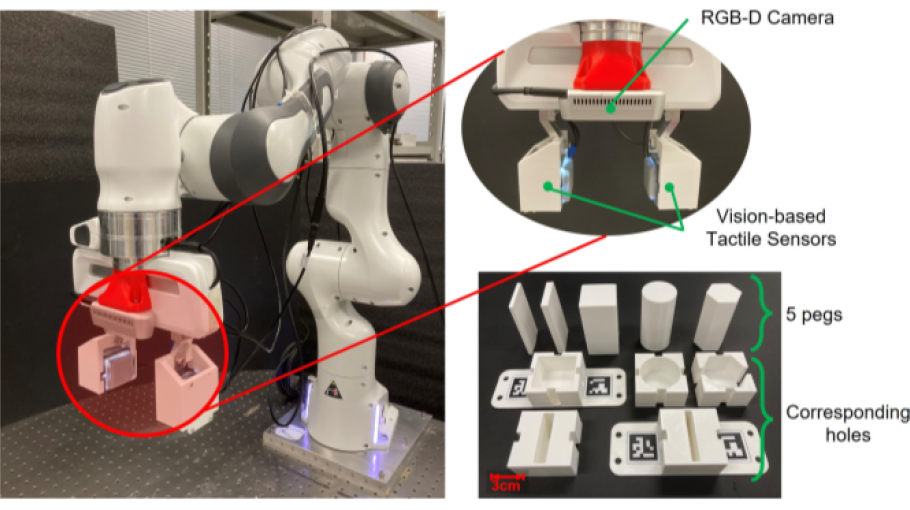 Vision-based Tactile Sensor
Group-in-charge: Prof. Hongyu YU
Focus Area: Robtics –Robot Manipulation.
Tactile sensing is an essential perception for robots to complete dexterous tasks. As a promising tactile sensing technique, vision-based tactile sensors have been developed to improve robot performance in manipulation and grasping.
Origami Paper-based Stretchable Humidity Sensor for Textile-attachable Wearable Electronics
Group-in-charge: Prof. Hongyu YU
Focus Area: humidity sensing, health monitoring.
In this work for the first time, we propose a stretchable, textile-compatible paper-based origami humidity sensor (POHS). The POHS can achieve good stretchability by integrating origami folding structures with a paper substrate, in which an airlaid paper acts as both a sensing material and sensor substrate. This sensor has a high sensitivity, good response and recovery properties with excellent stability during deformation. This sensor has proved to be capable of dynamically monitoring breathing rate even after 300 folding and unfolding cycles. The flexible and stretchable nature of our POHS ensures that it is compatible for textile attachment and in its utility for wearable applications, including respiration rate monitoring and diaper wetting detection. The facile fabrication process and convenient disposal method of the material proposed in this paper provide feasible solutions for the development of low-cost wearable humidity sensors. https://pubs.acs.org/doi/10.1021/acsami.2c08245
Electrochemical Tilt Sensor
Group-in-charge: Prof. Hongyu YU
Focus Area: Inertial Sensor.
Inertial sensors (e.g. accelerometer) are widely used in consumer electronics (e.g. smartphones), aerospace (e.g. drones), automotive (e.g. airbag ejection) and other industries. Most of them are Microelectromechanical Systems (MEMS), a tiny mass-spring device. They are small, cheap compared to the large machined sensor but the performance is compromised due to their small proof-mass and capacitive measuring mechanism.
Therefore, we are developing the electrochemical fluid-filled inertial sensor that has no moving parts, a large liquid proof-mass, a good signal-to-noise ratio, and low power consumption. It will be an ideal complement to the existing MEMS targeting low frequency, low cost, and high-performance sensing.
Flexible Thermoelectric Devices
Group-in-charge: Prof. Hongyu YU
Focus Area: Energy harvesting and temperature sensing.
Ultra-flexible fabric-based thermoelectric generators (uf-TEGs) are proposed with conductive cloth electrodes and elastic fabric substrate. The patterned elastic fabric substrate fits the rigid cuboids well, together with serpentine structured cloth electrodes, rendering uf-TEG with excellent integrity and flexibility, thereby achieving a highly functional TE performance when strain reaches 30% or on arbitrarily shaped heat sources. The uf-TEGs show a large peak power of 64.10 𝝁W for a temperature difference of 33.24 K with a high voltage output of 111.49 mV, which is superior compared to previously reported fabric-based TEG devices, and it is still functional after the water immersion test. Besides the energy harvesting function, with both the temperature sensing ability and the touch perception, this uf-TEG is demonstrated as the electrical skin when mounted on a robot. Moreover, due to the wind-sensitive performance and self-power ability, the uf-TEGs are assembled on cloth as wearable health and motion monitoring devices.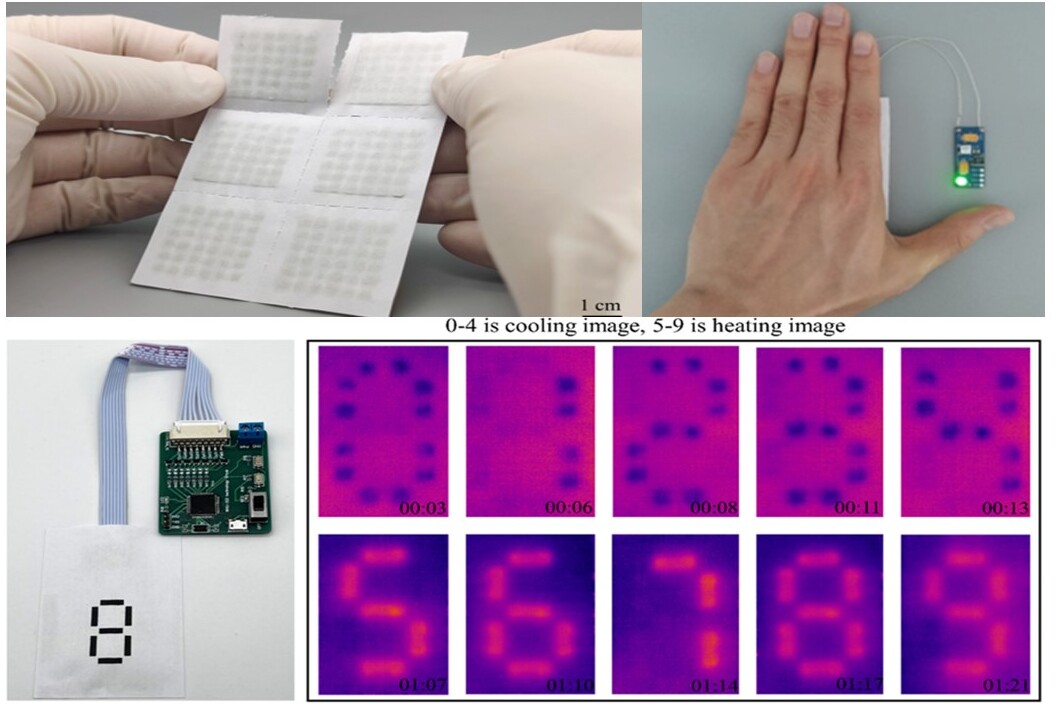 Flexible Thermoelectric Devices
Group-in-charge: Prof. Hongyu YU
Focus Area: Energy harvesting and temperature sensing.
In this work, simple screen-printing technology is used to fabricate a user friendly and high-performance paper-based TE device, which can be used in both stamp-like paper-based TE generators and infrared displays. When used as a paper-based TE generator, an output power of 940.8 µW is achieved with a temperature difference of 40 K. The programmable infrared pattern based on the TE array display could be used to realize encryption and anti-counterfeiting properties. Moreover, a visual extraction algorithm is used to develop a mobile application for processing and decoding the infrared quick response code information. These findings offer an exciting approach to using paper-based TEGs in applications such as energy harvesting devices, optical encryption, anti-counterfeiting, and dynamic infrared display.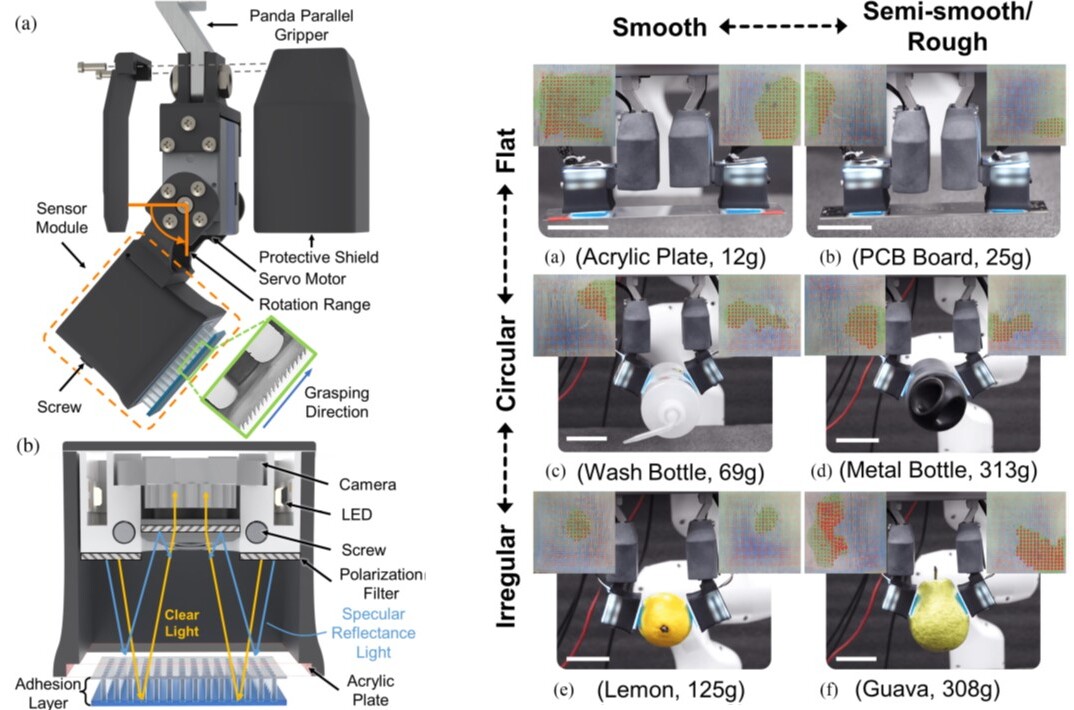 Viko 2.0: A Hierarchical Gecko-Inspired Adhesive Gripper With Visuotactile Sensor
Group-in-charge: Prof. Hongyu YU
Focus Area: Advanced robotic grippers for efficient and precise grasping tasks.
The Viko 2.0 gripper combines gecko-inspired adhesives and visuotactile sensors to bridge the gap in performance for grasping large objects. The hierarchical structure and multi-material design increase adhesion and contact area compared to non-hierarchical structures. The integrated visuotactile sensor provides real-time measurement of contact area and grip force, allowing for adaptive grasping poses. Implemented on a robotic arm, the Viko 2.0 can grasp objects of various geometries and textures.